活動紹介 : その他イベント |

2015/05/23
The 2nd Jane's Walk in Tokyo 2015 "Re-discovery of Mukojima" 

by Shunji SUZUKI
Visiting Professor, Meiji University

Summary
Mukojima is a local-traditional-intimate-dense-mixture of residential and commercial neighborhood where narrow alleys are laid out, at the foot of Tokyo Sky Tree tower. 8 walking courses by different themes were provided to deeply seek and understand the area. Themes covered; Local life, Architecture, Local taste, Sense of Place, Animals, Nature, History, Sightseeing, visualization etc.
About 60 persons participated in the event. 
Date: Sunday, April 26 10AM-5PM Meet at: Sumida Life-time Learning Center "Yutoria", 4th Floor Dome No attendance fee, No reservation necessary.
This event was sponsored and supported by: Association of Mukojima Studies(AMS), Meiji University, Community Design Partners for Children's Safety, Dontsuki Association, Bughaus
Schedule
10:00 Introduction and welcome message  
10:10 Course explanation and enrollment
10:45 Lecture "The four principles to generate diversity and vitality in city - Sprite of Jane Jacobs"
11:00 Walks start  
14:00 Comes back to Yutoria, preparation for presentation "What we saw, What we found"
15:30 Presentation by walking course group  
16:50 Overall summary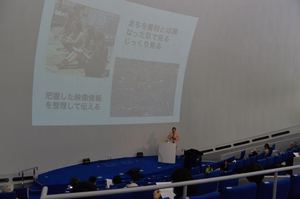 Introduction and welcome message by Prof. Yamamoto of Meiji University and AMS.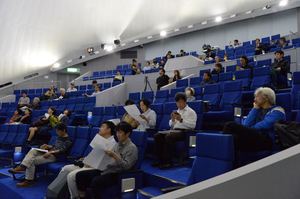 The hall was built as a planetarium, converted to a conference hall.
Walking Courses
1. Visit Tamanoi (old Karyukai Neighborhood where was fancy with Geisha Ladies and formal Japanese restaurants, described in novel of Kafu Nagai in the earth 20th century) and find the Terashima eggplants that were used to be made here)
2. Walk and capture the sense of place, the narrow alley neighborhood by using full five senses.
3. Stroll the local streets and find B-Class (interesting, strange) architecture.
4. Look for the nature, walk as long as possible.
5. Find dead-end alleys and take 360 degree movies.
6. Mapping of sightseeing information by integrating GPS, digital camera and IC recorder.
7. Mukojima as a ZOO - find animals based design and know why.
8. Art in Mukojima by walking and recording through the local cultural properties
Course explanation of Group No.4
Lecture
Lecture of Jane Jacobs' Four principles to generate diversity in city, by Shunji SUZUKI of Meiji University. The four condition all fit well to Mukojima.
Walks!
Getting ready to Go Walking!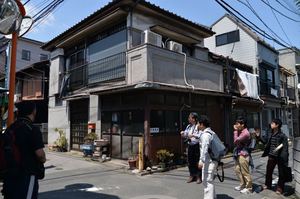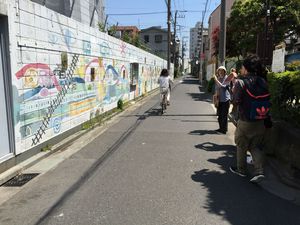 Walked through various scenes of diverse Mukojima neighborhood.
Preparing for Presentation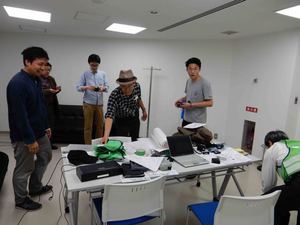 Preparing for the presentation, after about 3 hours of walking.
Presentation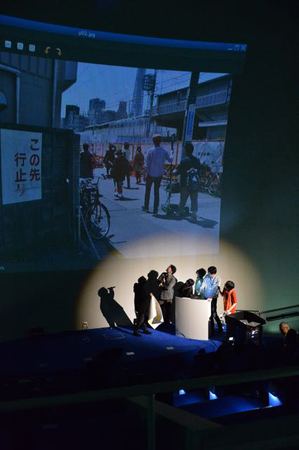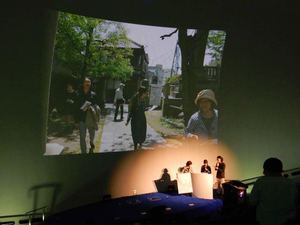 Each team did 10 minute presentation, to share what they found, what they saw. Group No. 5 showed 360 degree film in the planetarium dome.
Party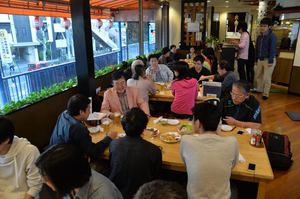 Party after the event!
Thank you so much for your attendance and support for the day. It was really fun and successful.